IMAGETEXT Group exhibition in Denver United States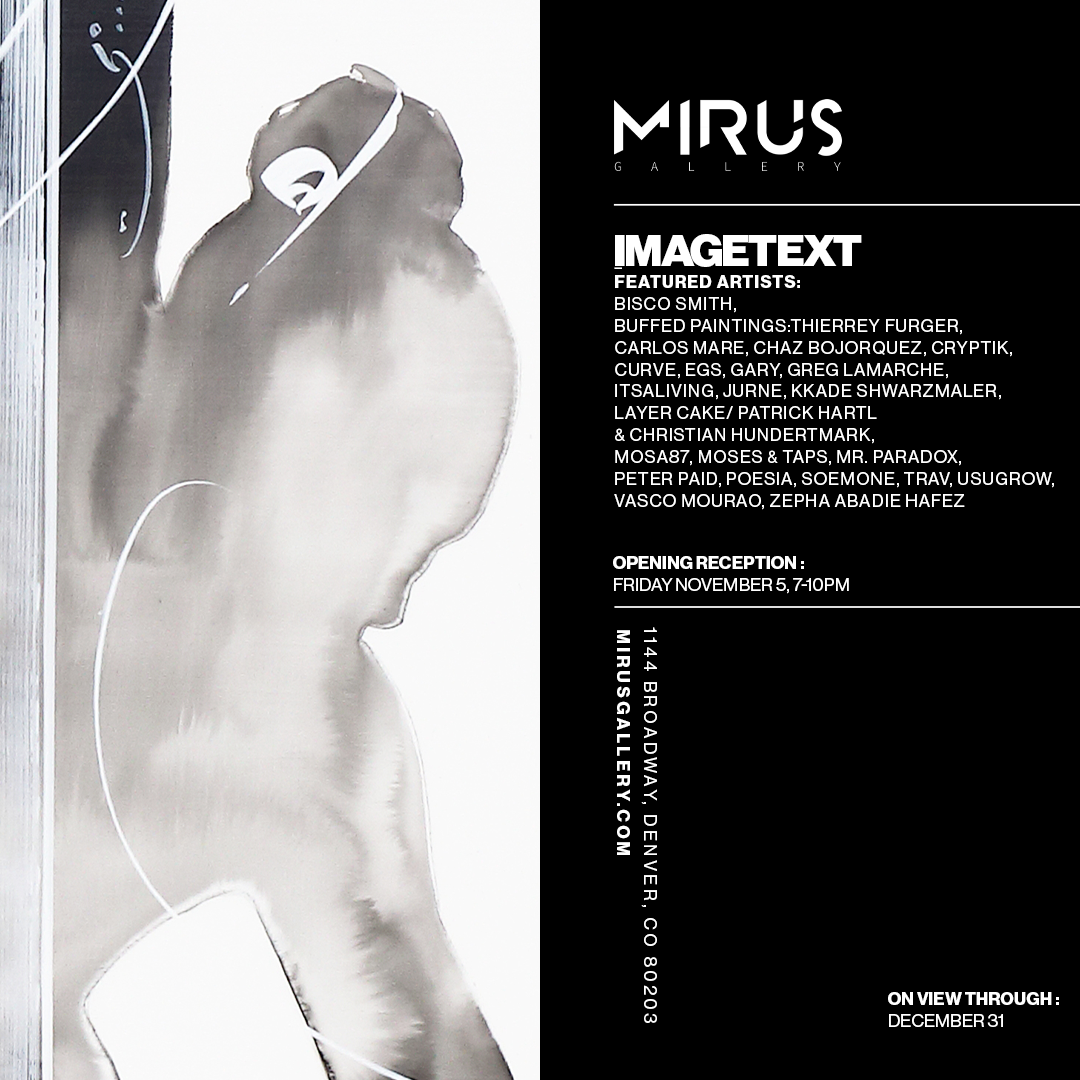 IMAGETEXT Group show opens this Friday at Mirus Gallery in Denver United States. You will see many different interpretations and diversity of calligraphy.

---
ImageText is a compelling survey of artworks based on letterform featuring a roster of influential international artists. The group exhibition is an examination of the movement from writing on the wall to post-graffiti studio work. Join us for the opening reception November 5, 7-10pm. VIP and Press Advance Preview by invite only 6-7pm. This exhibition will be on display through December 31 and is free and open to the public daily.
Featured Artists:
Bisco Smith, Carlos Mare, Chaz Bojorquez, Cryptik, Curve, EGS, Gary, Greg Lamarche, Itsaliving, Jurne, KKade Schwarzmaler, Layer Cake / Patrick Hartl & Christian Hundertmark, Mosa87, Moses & Taps, Mr. Paradox, Peter Paid, Poesia, Soemone, Thierry Furger – Buffed Paintings, Trav, Usugrow, Zepha Abadie Hafez
Event Details:
Opening Reception Friday November 5,
– VIP Preview 6-7pm, General 7-10pm
On display through December 31, 2021
Location: 1144 Broadway Denver, CO 80203
Gallery Business Hours:
Monday-Friday 12-6pm or By appointment
https://mirusgallery.com/
About the Exhibition: text by @artonthestreets.org.uk
Text-based paintings informed by the hybrid aesthetics, ethics and methods of graffiti are forms of writing that often exist on the edge of abstraction. They recall stylistic histories of deconstruction and the deliberate abstraction of letterforms to the limit – forms of writing visible to all but illegible to most – unruly imagetexts at the intersection of image and word that resist and exceed straightforward 'reading'.
W.J.T. Mitchell refers to the image as the "wild sign" – "in reference to the capacity of images to "explode signification" and to open up anarchic realms of non-sense and randomness. The imagetext is a limit case of the image as wild sign. These writing-based paintings mark the disorientating moment where the conventional relationship between the written word (signifier) and its meaning (signified) is disrupted – a moment which gleefully unsettles and challenges our automatic understandings of writing, language and art itself"
#mirusgallery #imagetext